Risk Assessments
Generic risk assessments for managers to use to address some of the hazards being presented during the management of the coronavirus outbreak can be found here.
Good Hygiene advice for staff
The key advice on protecting yourself and others from any respiratory virus is to:
Always carry tissues with you and use them to catch your cough or sneeze.
Bin the tissue.
To kill germs, wash your hands with soap and water, or use a sanitiser gel. Visit the Hand Hygiene article for more information including posters.
It is important to understand that Scotland is well prepared for these types of outbreak and to follow official advice from public health experts.
Face masks for the general public, pupils or students, or staff are not recommended to protect from infection, as there is no evidence of benefit from their use outside healthcare environments.
Clean Desk Policy
In line with NHS and Health Protection Scotland guidelines, the frequency of cleaning of all touch points within the workplace will be increased. Please ensure all staff maintain a clear desk policy before leaving their workspace at the end of each working day to allow this to happen.
COVID-19 Safe PPE
Guidance on general contact with a confirmed or suspected COVID-19 case is available in the articles COVID-19 Safe PPE (Social Care) and COVID-19 Safe PPE (Other Teams).
Mobile Phone Cleaning
With a clear focus on personal hygiene at the moment, it is strongly advised to maintain a high standard of frequent handwashing and for the lengths of time that are being widely recommended.
With this in mind, it is important to keep your mobile device clean and sanitised. The information below should be followed if and where possible:
Ensure device is unplugged from any charging cable and switched off.
The most effective cleaning solution is that of regular household soap and a microfibre cloth. Dampen the cloth and apply a small amount of liquid soap by gently rubbing into surfaces of phone. This should be done at the start and end of each working day/night.
Mobile phone manufacturers do not recommend the use of chemicals, hand gels or abrasive wipes as there is a risk of damaging screen.
Whilst it's appreciated that access to soap and water may not always be available whilst employees are undertaking their respective duties, regular handwashing and sanitising will reduce the likelihood of germs being spread from the device causing harm. If regular handwashing is not maintained then cleaning of mobile phones will prove ineffective.
Physical Distancing Measures in the Workplace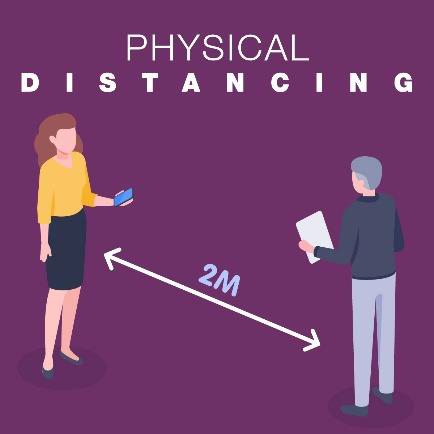 It's vital that you ensure staff are complying with physical distancing measures in the workplace. The council as an employer has a legal responsibility to ensure the health, safety and welfare at work of staff and in respect of COVID-19, line managers need to ensure that risk assessments are undertaken to enable staff to work safely whilst maintaining physical distancing and other requirements.
The advice is clear, if staff can work from home, then they should do so. Managers are asked to facilitate their employees working from home, where possible, including providing suitable IT and equipment to enable remote working.
If staff need to come into the workplace, they must comply with physical distancing guidance.
Ensure a distance of two metres (6ft) between staff members at work stations and as they carry out their work. This includes at lunch and break times.
Regularly wash hands more often with soap and water for at least 20 seconds, or use a hand sanitiser.
Do not meet with colleagues in small groups or meetings, even when on a break.
Everyone has a responsibility and staff should be encouraged to highlight if they consider work or inadequate precautions are putting anyone's health and safety at serious risk.
Please contact the Health and Safety team if you require support or more information.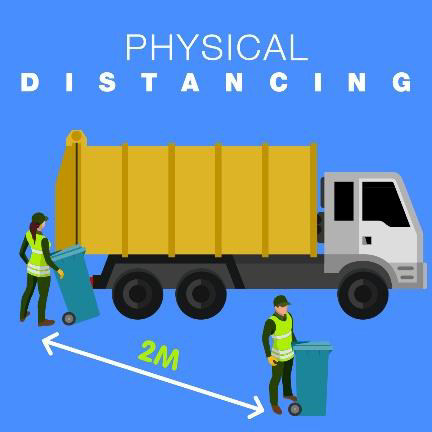 Incident Reporting – COVID-19
In light of the coronavirus outbreak the Health & Safety Executive has amended the Reporting of Injuries, Diseases and Dangerous Occurrences (RIDDOR) Regulations 2013 to include certain aspects relating to the virus.
The categories that have been included refer to specific situations, however managers should encourage staff to report any adverse incidents or health effects arising from exposure to potential or actual cases of COVID-19. Managers should arrange for all such reports to be entered on the Council Incident Reporting and Information System (CIRIS).
Under RIDDOR, the council will be required to report incidents where:
A worker has been diagnosed as having COVID-19 and there is reasonable evidence that it was caused by exposure at work. This must be reported as a case of disease.
A worker dies as a result of occupational exposure to coronavirus.
Where an incident is reportable to HSE under RIDDOR, the report will be made by the Occupational Safety and Wellbeing Team. To ensure timely and accurate reporting it is essential that managers investigate the circumstances of any reported incident to accurately establish: whether there is reasonable evidence that there was occupational exposure to coronavirus; the outcome as a result of this exposure.
Guidance is available from the Occupational Safety and Wellbeing Team. Please contact:
Fiona Duddy T: 07534-288-124
David Glassford T: 07939-284-730 or
Via email healthandsafety@northlan.gov.uk